Here at Richard Creative, the past couple of months have been full of fun projects related to one of the area's most celebrated annual events – Jason Brady Restaurant Group's Wine and Swine Festival!
When: Sunday, April 9th, 3PM – 6PM
Where: Wine Country Bistro – 4800 Line Avenue, Shreveport
What: Now in its 9th year, the Wine and Swine Festival is an exceptional showcase of renowned wine selections, impressive culinary feats, and record-breaking crowds enjoying the bounty.
We have done many exciting projects since becoming Jason Brady Restaurant Group's creative agency, but Wine and Swine tops the list.
First Things First
We started with the logo. The Wine and Swine logo has been a defining feature for the event since its inception – the emblem promoting the event on posters, ads, and social media, it also lives on in infamy on t-shirts, etched glasses, and many more promo products.
Jason brought us the vision for the logo, and we loved the mixture of classicism and distinctly modern textures and colors.
Danielle's take: "Jason never wants this event to sound "stuffy" or overly traditional, so we knew the look needed to keep a playful and intriguing appeal. We loved collaborating on this out-of-the-box idea!"
Promoting Strategies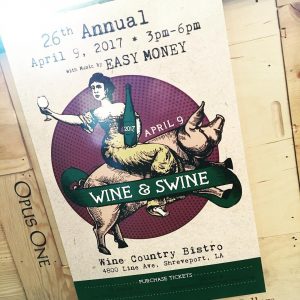 The Richard Creative team worked hard to develop a consistent, branded campaign to promote this special occasion. From the logo and posters, to both printed tickets and online ticket sales, to blog posts and website features, to coordinating advertising and media spots – we strategized every possible opportunity and garnered a lot of great attention in the area.
Danielle's take: "It was remarkable to see a bump in online ticket sales after each marketing piece was released, all leading up to the day of the event. This is such a last minute town, so seeing ticket sales as far out as a month beforehand was a huge deal. We are just a few days away, and we could easily sell out the event any minute. This might be the biggest Wine and Swine Festival yet!"
The Stuff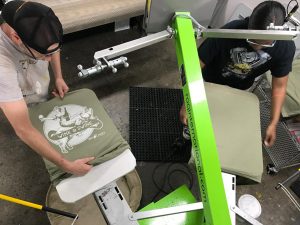 We had a blast designing the branded items that are featured in the swag bag – including premium t-shirts, imprinted wine glasses, and more. While the swag bag is free with your purchase of a Wine and Swine ticket, you can purchase extras at the event if you want to bring home a souvenir for a less fortunate friend.
Danielle's take: "It's always fun to branch out into event promotions for a restaurant group as big as the JBRG. We promote their restaurants every day, so we have an intimate knowledge of the characteristics of each concept.
It is so fun to have a hand in a special event like this – we love dreaming up crazy artwork, conceptualizing fun promotional products like the shirts and wine glasses, and learning about what delicious foods, drinks, and special guest chefs they bring along for this event. It's been one of our favorite projects to date!"
The Richard Creative team will be attending the event en force, and we CAN'T WAIT to see the spectacle and enjoy the extraordinary culinary experience. Look for our insider re-cap next week!
Want to join us at the event? Tickets are ALMOST sold out, so buy yours today!
Read More!
Interested in reading more about the event? Check out these awesome features published around town! We enjoyed working with Chris, Tiana,  Lauren, and KTBS to promote Wine and Swine, and we appreciate all of their interest and support!
Save
Save
Save
Save